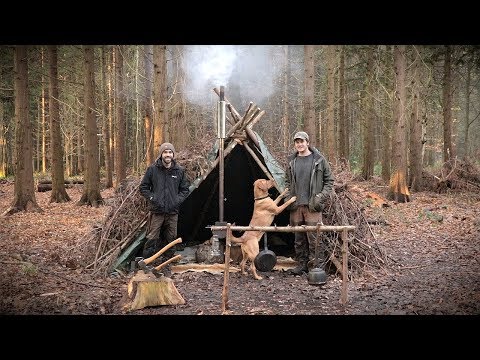 Join me on a 2 day bushcraft camp with Dustin and his Dog. We build a tipi shelter, cook on a woodstove and sleep on deer hides with a wool blanket. We make a large tipi tarp shelter and use debris on top to keep the shelter warm and wind resistant. We then do some camp craft, build a pot hanger and open fire. At night we cook sea food on the woodstove and use the axe to chop firewood. Dustin shows some basic bushcraft skills and shows you some recipes for cooking on a woodstove. The next morning we make coffee and cook up breakfast on the open camp fire. Come and join us on this adventure!
WOODSTOVE – GSTOVE HEAT VIEW:
They are offering my subscribers 15% off their stoves and accessories on their website: https://www.gstove.com/ The code is "taoutdoors" and they ship worldwide.
OFFICIAL TA OUTDOORS MERCHANDISE: https://taofficial.com
TA OUTDOORS PATCHES: https://www.taoutdoors.com
Dustin's Bushcraft Courses http://www.westcountrybushcraft.co.uk/
Dustin's Fire Pistons: http://www.bushcrafttools.com/
Dustin's YouTube: https://www.youtube.com/user/bushcraftfires
Dustin's Instagram: https://www.instagram.com/bushcrafttools/
TA INSTAGRAM: https://www.instagram.com/taoutdoorofficial
TA FACEBOOK: https://www.facebook.com/totallyawesomeoutdoors
TA TWITTER: https://twitter.com/OutdoorsTa
Subscribe to our other Fishing YouTube Channel "TAFishing" here: https://www.youtube.com/tafishing
#bushcraft #camp #taoutdoors