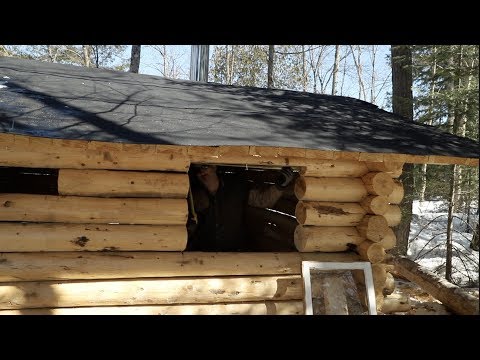 #logcabin #sauna #offgrid
What an incredible week at the log cabin in the Canadian wilderness! On Sunday and Monday, we got 6 inches of snow on top of the 3 feet that still blankets the ground, but a hot sun and seasonal, mild temperatures over the following two days finally started to melt the snowpack, making for difficult walking and sledding conditions. I fire up the woodburning stove in the Finnish sauna to melt the snow on the floor, but it's still just too cold to make melt it enough to install the wood floor. I do get one of the windows in and I build the dividing wall between the sauna/shower section and the front change area. Tune in to my other YouTube channel, Shawn James, to see where I got the aromatic cedar planks for the floor and the walls.
I make a batch of about 3 gallons of maple syrup and then I pull the taps out of the trees because the weather is changing rapidly and the good sap is about over. Working up a healthy appetite working in the bush and on the sauna, I cook several hearty meals, including venison (deer) cheeseburgers, trout with maple syrup glaze, venison burger with runny eggs for breakfast, venison steaks for dinner and lunch.
Thanks for watching! New videos every FRIDAY and randomly throughout the week, including on my other channel. Please like, comment and subscribe.
My Other Channel: Shawn James https://bit.ly/2xzZHpB
T-SHIRTS: https://teespring.com/stores/my-self-reliance
Watch the ENTIRE cabin and Forest Kitchen SERIES here:
HOW TO BUILD A LOG CABIN: https://bit.ly/2nbof06
SEASON 2 – The Interior: https://bit.ly/2CIjPqr
SEASON 3 – The Sauna/Bathhouse: https://bit.ly/2AskJWP
THE FOREST KITCHEN, Building It: https://bit.ly/2M3syZE
SEASON 2 – Outdoor Cooking: https://bit.ly/2CFgQPQ
To see what I'm up to during the rest of the week, please follow me on my other online channels;
Website: http://myselfreliance.com/
Facebook – https://www.facebook.com/MySelfReliance/
Instagram – https://www.instagram.com/myselfreliance/
My Mailing Address:
P.O. Box 20042
Barrie, Ontario
L4M 6E9
Canada
My tools, Clothing & Other Gear:
https://www.amazon.com/shop/myselfreliance
Film/photography gear:
Canon 6D – http://amzn.to/2EdaZjs
DJI Mavic Pro – http://amzn.to/2DHuJib