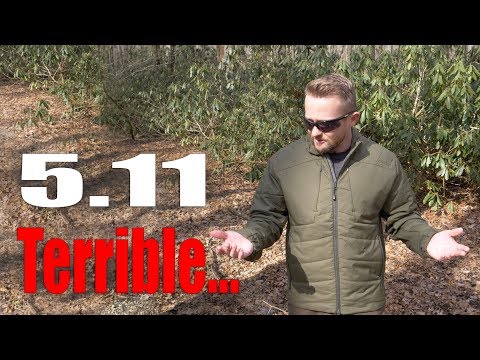 This channel is Agenda Free and is fully supported by the viewers.
Support TOGR with Patreon : https://www.patreon.com/TOGR
Instagram : https://www.instagram.com/theoutdoorgearreview/
This is the jacket that everyone has been asking about recently, the 5.11 Insulator Jacket! To cut to the chase, it's awesome but 5.11 as a company isn't and the question is, can I recommend this product?
Find out now!
…
Link : https://www.511tactical.com/insulator-jacket.html
Price : Retail $130 – $50.00 – I don't know if 5.11 stuff is always on sale or not but it has been at this price for the last two months at the time of filming.
Colors : Sheriff Green
Size : Small – 2XL
START : I really like this jacket but there is a huge reason why you may not want to purchase it or anything else from this company and I will address shortly.
62% nylon / 38% polyester fabric
Versatile thermal protection
RAPIDraw™ pockets
DWR treated exterior
62% nylon / 38% polyester
Low-profile chest pockets
Performance fit stretch panels
100 gm Primaloft® Silver lining
2-way YKK® front zipper
Stretch side panels which allow the jacket to stretch with your movements
Pros :
First off, this jacket looks awesome! I love it and so do many of you as I have seen the hundreds of comments concerning it.
Excellent quality
Very warm – I'm comfortable down to the mid 40's with this jacket with only a t-shirt. Add a good insulation layer such as a merino wool sweater and I've rocked this down to around 15F.
Comfortable. – Warm – Easily adaptable to temp ranges
Accurate fit.
Adequately packable
Very well thought out jacket.
Excellent zippers.
Easy of access to your front carry and conceal.
Plenty of pockets
No obnoxious branding
Excellent value for the money with the sale price.
Cons :
The collar is just ok in my opinion. It never gets on my nerves but I find that I am having to adjust it from time to time as it has a tendency to stick up and touch my face. This is VERY small con and doesn't impact my thoughts on this jacket at all but I want to mention it.
Terrible Customer Service
..
Check out our web site for more information concerning everything seen on our Channel including reviews, insight into what is coming up and a chance to vote and influence our upcoming overnight adventures.
http://www.theoutdoorgearreview.com/
…
Come Join Us on Facebook and Twitter:
Facebook: https://www.facebook.com/pages/The-Outdoor-Gear-Review/281509538652229
Twitter: https://twitter.com/OutdoorGearRev
…..