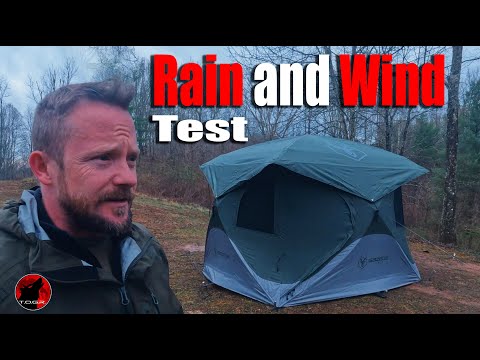 In this Test Night Episode, Luke is waterproof testing the Gazelle Tents T3X.
Is the tent waterproof like the company claims or are their issues present with the design?
Link : https://amzn.to/3Mwr74C
…
Merch Store :
Want to support TOGR, buy a shirt, hoodie, hat, etc.
Merch Store : https://the-outdoor-gear-review.myspreadshop.com/
…
Links :
Additional Links :
Camera Gear :
– Sony A7IV : https://amzn.to/3vWtLHR
– Sony 20mm 1.8 Lens : https://amzn.to/3AcFq80
– Sony 35mm 1.8 Lens : https://amzn.to/3BFs8iZ
– SIRUI Carbon Fiber Travel 5C Tripod : https://amzn.to/3BEahZX
– Batteries : https://amzn.to/3geFtG5
– Rode VideoMic Pro Plus Mic : https://amzn.to/3iZMqMO
Clothing :
– Outdoor Research 24/7 Shorts : https://amzn.to/3MuaCSS
– Vasque Juxt Multi-Sport Shoes : https://amzn.to/3DbNTK9
– Darn Tough Socks : https://amzn.to/3mx20A5
– Arcteryx Conveyor Belt : https://amzn.to/3QSnzsi
– Patagonia Men's Micro D Full Zip Sweater : https://www.patagonia.com/product/mens-micro-d-fleece-jacket/26171.html
– Smartwool Merino Wool Hat : https://amzn.to/3feJv0Y
– IO Merino Wool Mask : No Longer Available
– Knit Gloves Base :
– Permethrin for Clothing and Gear : https://amzn.to/37V3FvQ
– 5.11 Rain Jacket : https://amzn.to/3IZbPCd
– Zpacks Lotus Umbrella : https://zpacks.com/products/lotus-umbrella
– Kershaw Cryo II Folding Knife : https://amzn.to/2Sej6aD
– Garmin Instinct Solar GPS Watch : https://amzn.to/3GvkPMC
– Oakley Sunglasses : https://amzn.to/2WcOGYm
If you purchase anything from the links above, you will be supporting the channel through a small commission on Amazon. Thank you for the support and remember, TOGR is 100% Agenda Free.
….
100% Agenda Free :
This channel is Agenda Free and is fully supported by the viewers.
Support TOGR through Patreon : https://www.patreon.com/TOGR
or
Support TOGR through YouTube : https://www.youtube.com/channel/UCpmbA7yNOl7aTj_ffkaWWag/join
…
OneTigris Quietly Updated the Cosmitto Tent – Version 2.0 is Here
Link : https://www.onetigris.com/us/cosmitto-backpacking-tent.html#product_aw_reviews_tab
Person : 2
Doors : 2
Partially freestanding, the doors do need to be staked out.
HSHR : 2000mm
Materials :
20D Plaid Ripstop Polyester Outer Tent
70D Nylon Tent Bottom
40D Nylon Mesh Inner Tent,
YKK Zippers,
#7001 Aluminum Alloy Tent Poles
Dimensions :
Setup 6.9ft long x 4.27ft wide x 3.6ft high
Folded 20.5" x 6.7"
Weight : 5.1lbs
Colors : Coyote Brown and Wolf Gray
Price : $170
Here's what is different – 4 main points –
Change the design of the tent structure which is same as Scaena tent as it provides more space.
2. Removed the top vent and moved it to the door area.
3. Add 3D interior pockets at the top of inside which the old version didn't have.
4. Improved water resistance to 2000mm, which can be used in heavy rain.
I am excited to get this out to test and to see how much of an impact that the changes that the company has made will make in real world use.
Is this tent going to be waterproof? I certainly hope so but I'll be honest, I'm a bit worried about it.
I'm going to test this tent out and every step of the way, I'm going to bring you all with me. If there is a problem, I will tell you about it and not only that, I'll show it to you.
By the way, there are two reviews on the OneTigris web site for this tent but they are from early 2022 and aren't for this new model as it wasn't available at that time.
…
Web Site : http://www.theoutdoorgearreview.com
Come Join Us on Facebook, Twitter Instagram :
Facebook : https://www.facebook.com/pages/The-Outdoor-Gear-Review/281509538652229
Twitter : https://twitter.com/OutdoorGearRev
Instagram : https://www.instagram.com/theoutdoorgearreview/
Vero : https://vero.co/theoutdoorgearreview