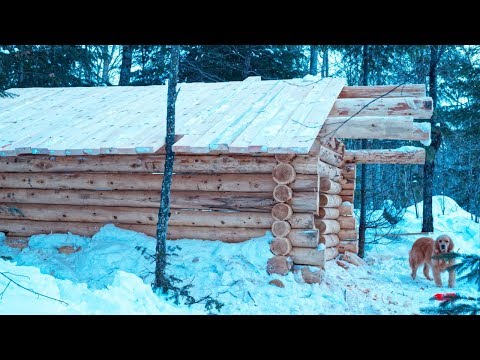 #logcabin #simplelife #offgrid
Lifting the 17′ log purlins into place alone proves to be difficult but manageable. I notch the gable ends to fit the purlin logs into place and then nail on full dimension 2'x4'x10′ rough cut boards that I'll cut down to about 8′ once they're all in place. Rather than cut down 70 saplings for rafters or ripping my stock of logs into lumber, I go into town to the mill to pick up cheap pine boards that I haul back to the cabin with the snowmobile.
For dinner, I cook up a large lake trout that I caught earlier in the week, frying it along with vegetables the first night and then making a spicy stew with the leftovers. Breakfast is the usual high calorie winter meal – bacon, avocado, cheese and eggs, quail eggs on the first morning and organic chicken eggs the following morning. Lunch is off camera, venison jerky like usual.
Thanks for watching! New videos every FRIDAY. Please don't forget to subscribe and click the notification bell to follow this Log Cabin Series, Season 3 – The Log Cabin Sauna, Bathhouse.
My Other Channel: Shawn James https://bit.ly/2xzZHpB
T-SHIRTS: https://teespring.com/stores/my-self-reliance
Watch the ENTIRE cabin and Forest Kitchen SERIES here:
HOW TO BUILD A LOG CABIN: https://bit.ly/2nbof06
SEASON 2 – The Interior: https://bit.ly/2CIjPqr
SEASON 3 – The Sauna/Bathhouse: https://bit.ly/2AskJWP
THE FOREST KITCHEN, Building It: https://bit.ly/2M3syZE
SEASON 2 – Outdoor Cooking: https://bit.ly/2CFgQPQ
To see what I'm up to during the rest of the week, please follow me on my other online channels;
Website: http://myselfreliance.com/
Facebook – https://www.facebook.com/MySelfReliance/
Instagram – https://www.instagram.com/myselfreliance/
My Mailing Address:
P.O. Box 20042
Barrie, Ontario
L4M 6E9
Canada
My tools, Clothing & Other Gear:
https://www.amazon.com/shop/myselfreliance
Film/photography gear:
Canon 6D – http://amzn.to/2EdaZjs
DJI Mavic Pro – http://amzn.to/2DHuJib