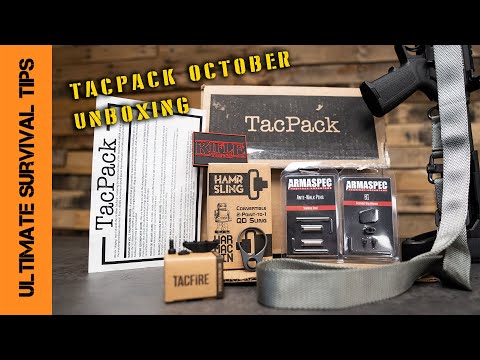 ▶Do you love TACTICAL, EDC, AND SURVIVAL GEAR? If so, this video is for you! Jake busts into a the NEW October TacPack subscription box for outdoor, tactical, survival, EDC gear geeks like us! Get Tiny Survival Gear: https://tinysurvival.com/
Tacpack sent us this month's box. Find out if the $49.99 TacPack box is worth adding to your monthly subscriptions.
For your convenience, Tacpack provided code "ULTIMATE" to add a mystery bonus product to your first month's delivery at https://www.tacpack.com/
__________
If You Found this Video to be Helpful… I'd be Honored if You Bookmark and Use the Following Link When YOU Search for Your Best Deals on Amazon:
http://tinyurl.com/Amazon-UST1
______
Get More ULTIMATE SURVIVAL TIPS:
– FREE EDC e-MAG + Gear Giveaways and Tiny Survival Gear: https://tinysurvival.com/
– MSK-1 Survival Knife: msk1knife.com/
– Grab My FREE Survival e-MAG: http://tinyurl.com/Survival-e-MAG
– ON CarbonTV: http://ultimatesurvivaltips.com/ctv-show1/
– ON Facebook: https://www.facebook.com/UltimateSurvivalTips/
– ON Instagram: https://www.instagram.com/ultimatesurvivaltips/
– ON Twitter: https://twitter.com/ultsurvivaltips?lang=en
VISIT Our WEBSITE: For Tons More Reviews, Tips, Training and FUN: http://tinysurvival.com/
___________
Get the Latest News – Cool Survival Tips and Other Cool Stuff
JOIN our Growing Facebook Community…. Just Do It… You'll be glad you did!
It's EASY…
Simply "LIKE" our Facebook page and you should get updates when we post answers to YOUR questions and Other Cool Stuff…
HERE's the LINK to FACEBOOK:
http://www.facebook.com/UltimateSurvi…
– Check out my survival gear checklists on Kit: https://kit.com/UltimateSurvivalTips
_______
Be SOCIAL!
Please Comment, Like & Share this video (Thanks!!!)

Subscribe to this Channel for more Great Gear Reviews and Survival Tips:
http://www.youtube.com/subscription_c…
Follow Ultimate Survival Tips on Twitter:
Tweets by UltSurvivalTips
_______
Discover More about the "Ultimate Survival Challenge – Level 1 Training" Here:
http://tinyurl.com/UST-Training
Some of Our OTHER GEAR REVIEW and TIPS VIDEOS:
– DIY Emergency / Survival Water Filter: http://youtu.be/QaAblon69sI
– Schrade Extreme Survival Knife – SCHF10: http://youtu.be/CPFyyJTNWUE
– Knife Sharpening Boot Camp – Session 2: http://youtu.be/Wlr2kl1ISV8
– Gear Pods Survival System: http://youtu.be/rKKRjZGTs8U
– Bear Grylls Ultimate Pro Survival Knife: http://youtu.be/Kw8JxaDQ9ZY
– Rocky S2V Survival Grenade: http://youtu.be/mQ5bUdfbJZM
– David's Every Day Carry (EDC) – #1: http://youtu.be/00TT1saKsBo
– Knife Sharpening Boot Camp – Session 1: http://youtu.be/00TT1saKsBo
– Bug Out Basics – Session 1: http://youtu.be/zSQAe89iCSg
– Survival Quick Tip – Paracord Basics: http://youtu.be/7uXSHiIytZU
– Ambient Weather Survival Radio: http://youtu.be/1ytifvy7268
– SOG Creed Knife: http://youtu.be/u9jw1mf_f1I
– Cold Steel SRK Survival Knife: http://youtu.be/PoOSd09ajFg
– Bear Grylls Ultimate Paracord Knife: http://youtu.be/hRpwNB8neVs
– Schrade Extreme Survival Knife: http://youtu.be/g_B0SRsP_ag
_______
_______
Our FTC Disclosure:
http://ultimatesurvivaltips.com/ftc-d…
_______
Thanks for watchin'